Do you want an inversion table that offers a higher weight capacity? Or maybe one that provides additional comfort and convenience features? You'll probably like the Exerpeutic 975SL because it offers all of the above!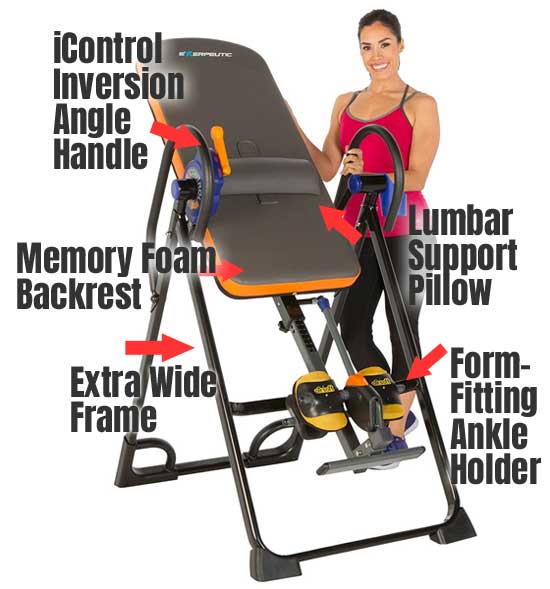 Maybe that's why they call this model "all inclusive", right? Let's take a look at all the cool features and how the Exerpeutic 975SL differs from other inversion tables.
Exerpeutic 975SL Inversion Table Review
1. Convenient Inversion Angle-Adjusting Lever

First of all, the Exerpeutic allows you to select the inversion angle while you hang upside down.
The manufacturer set up their patented "iControl" disk brake system on the side of the table conveniently within arm's reach.
Therefore, you don't have to actually dismount the table in order to adjust the inversion angle (like you do with other models). In other words, you can set it at the perfect slant while you rotate the backrest, and adjust as needed (instantly!).
In addition, this angle-adjustment system doesn't limit you to a certain number of reclining angles. The number is virtually limitless.
2. Extra Comfortable Inversion Table Backrest

Second, the backrest contains extra plush memory foam. In addition, the extra-large frame gives you about 5 inches of extra width than comparable benches. For example, the Ironman Gravity 4000 measures 26″ across (vs 31″).
Furthermore, the backrest includes a lumbar support cushion that provides extra back support. Alternatively, you can remove the cushion if you prefer a flat bench or for doing reverse sit ups while hanging upside down.
3. Ultra-Supportive Inversion Ankle Cuffs

Third, Exerpeutic has yet another patent-pending feature on this device: the Airsoft Ankle Holder. It actually allows air to flow through the cushioned cuffs to give you a form-fitting, (and ergonomically comfortable) fit around your legs.
Cheaper inversion tables have ankle cuffs with a generic fit that can feel like they are pulling on your ankles. This can feel uncomfortable, especially to people just getting started with inverting.
Note: From my experience using inversion therapy, I think the most important feature (when it comes to comfort) are the ankle cuffs. If your feet or ankles hurt while you hang upside down, you simply use the device less often.

By the way, you can open and close the ankle cuffs using a long, conveniently-located handle. Many cheaper tables have a short spring bolt that requires you to reach all the way down to your feet to adjust.
Video Explaining the Features of the Exerpeutic 975SL:
In the video below, you can see how all of the components work. For example, the ankle cuff ratchet lever and iComfort disc brake system.
This well-built device provides several good safety features too, in addition to the sturdy frame and no-slip rubber feet. In other words, you will feel really secure and stable while inverted.

Exerpeutic Full-Feature, High Capacity Inversion Table
Note: I personally recommend Exerpeutic products to my friends. I even use one of their treadmills at my standing desk, and I love it. If I had to describe their products, I would say "well-made, reliable and durable". Not to mention, "affordably-priced".
Exerpeutic 975SL User Manual & Replacement Parts:

By the way, you can contact the manufacturer directly if you ever need replacement parts through their website. Alternatively, you can reach them by phone at 1-866-924-1688.
If you need to find or want to check out the user manual/instruction guide, you can download it free here from the manufacturer.
It includes the parts list, assembly instructions, safety guidelines, operation instructions storage tips and more. In addition, it includes helpful pictures, drawings and diagrams.
You will need to put together the unit yourself. That said, the project only takes about 1-2 hours, and this way you get free shipping.
Exerpeutic 975SL Inversion Table Specs:
Set-Up Dimensions: 58.3″ Tall x 75.6″ Long x 31″ Wide
Folded Dimensions: 39.5″ Tall x 32″ Wide x 74.5″ Deep
Device Weight: 74.1 pounds
Max Weight Capacity: 350 lbs
User Height Capability: 4'10" to 6'6″ Tall
Frame Material: Heavy Duty Tubular Steel Frame
Frame Finish: Scratch-Resistant Powder-Coated
Backrest: 2.3″ Thick Memory Foam with Vinyl Cover
Includes Lumbar Support Pillow
180 Degree Vertical Inversion
Assembly Required
Model #: 4575
Manufacturer: Paradigm Health & Wellness 1-866-924-1688
How to Start Using the Exerpeutic Inversion Table:
The manufacturer recommends testing out your table at just a 15-20 degree recline for as long as you feel comfortable. Then, increase the angle and length of time gradually.
When inverting, return to the upright position slowly to prevent dizziness. And, don't invert until 2 hours after eating.
They also suggest inverting regularly to obtain maximum benefits. Some people invert multiple times a day for short periods, like 2-5 minutes. Check with your doctor first. Also, you don't have to invert completely upside down to benefit form inversion therapy.
Exerpeutic 975SL vs Ironman Gravity 4000:

Ironman makes a similar inversion table, having a thick memory foam backrest and lumbar support pillow. In addition, it also has a high 350-lb weight capacity and ergonomically-molded ankle cuffs.
The Ironman table, however, does not have a lever that allows you to adjust the inversion angle instantaneously. Instead, it has the old-school tethered strap. Although you don't get this convenient feature, it does cost about $80 less than the Exerpeutic 975SL inversion table.