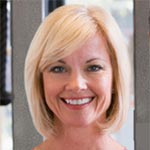 Thanks for stopping by InversionExpert.com. Please contact us if you have any questions.
I'm Julie. I am not a medical doctor, nor do I make health recommendations. I am here to simply share my own experience and help others find a solution that works for them. Always consult with a medical doctor before making a decision that pertains to your health.
My personal experience is that I started experiencing back pain from running. It started carrying over to other sports and daily activities, and eventually I started having a difficult time getting out of bed in the morning without having lower back pain.
My search for pain relief included doctors, chiropractic care, physical therapy, massage, diet changes to reduce inflammation. Some things worked better than others, but did not entirely fix the problem.
A surprise came unexpectedly when a friend suggested that I hang from a pull-up bar to help relieve the pressure in my back. I would hang for 30 seconds to a minute at a time (from my hands – not inverted) and actually felt a small improvement. The hard part was holding on the bar for long periods of time.
I discovered inversion tables and the rest is history. For me, I do not need to spend a long time inverted to feel significantly better. I also don't hang at 100%. I'm only at 60-70%.
Each of us has different problems and experiences different results. What I've learned is that keeping an open mind can often lead to that answers you might have never considered.
I hope the information on our site can help you, and I wish you the best!
Julie Brennan
Operations Manager
More Ways to Contact Us:
Also reach us on: Twitter | Facebook | Google+