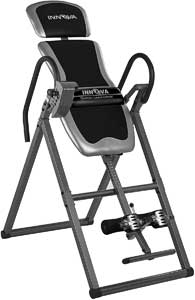 The Innova Fitness ITX9600 is an affordably-priced inversion table with a "True Balance" system that makes it easy to invert.
Don't be deceived by the price, this Innova Fitness inversion table is a heavy duty piece of equipment able to support up to 300 lbs. The manufacturer build it using heavy gauge steel, with an extra long and wide back rest.
Therefore, it feels extra sturdy and stable as well. You'll have no problem laying back and relaxing on this table.
What makes the Innova Fitness ITX9600 different?
Instead of using the old school strap for adjusting the position, it uses a simple and secure pin system. You can adjust it easily, and the pin system guarantees a consistent inversion angle each time you use it. No need to even think about it.
But does it feel comfortable? Just because this inversion table costs less doesn't mean that the manufacturers have skimped on comfort. In addition to the large padded backrest, the device includes thick foam leg rollers plus handle bars covered in soft foam. It makes getting in and out of your inversion therapy session very easy and comfortable.
Versatility is Key with Inversion Tables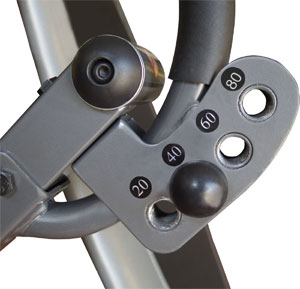 People up to 6′ 6″ tall can use the Innova inversion table. Plus, as I already mentioned, it has a 300 pound capacity, so this device is very versatile. It also features a 3-position bench, so you can lay partially or fully converted.
I prefer versatile equipment myself, because it usually means that I will use it more often (and it can be used by multiple people in different ways). It also typically results in a higher resale price, should I ever decide to sell it, and that ends up saving me even more money in the long run.
No Bells and Whistles – Good or Bad?

If you are looking for a full-featured inversion device, this is not your best option. It has no acupressure modules, heat accessory, massage button, etc.. This is your basic table with no bells and whistles – but you don't have to pay for them either.
If you simply want to lay inverted or do ab crunches upside down to get in a good core workout, you can save a lot of money with this table while not having to forgo comfort or stability.
Will Inversion Therapy Work for You?

Some people who try inversion tables only experience temporary relief. In fact, they have to consistently use the equipment in order to keep their back pain at bay.
According to Dr Robert Duvall of The Healthy Back Institute, aggravating back pain can often stem from muscle imbalances that occur over time.
In this case, understanding the actual cause of the pain can help you find, stop and prevent your back pain in the future. Thus, eliminating the need to use an inversion table over the long term.
Before investing in any inversion therapy equipment, it's important to look into the potential downside to the therapy you are trying. Pain relief in the lower back, neck or even headaches can be worth the investment, but it's smart to find out the pros and cons before buying. Check out the video below for more information and visit this page.
Click here for the Innova Inversion Table