Teeter Hang-ups has been making back therapy equipment for over 30 years, and they design a variety of different inversion tables. They are known for being well-made, durable and secure (important, especially when you are hanging upside down!).
The Bottom Line:
I go into detail below, but the bottom line is that you can get multiple health benefits at one time using one device, making it a very cost-effective investment. I personally choose the EP-560, but both versions are excellent.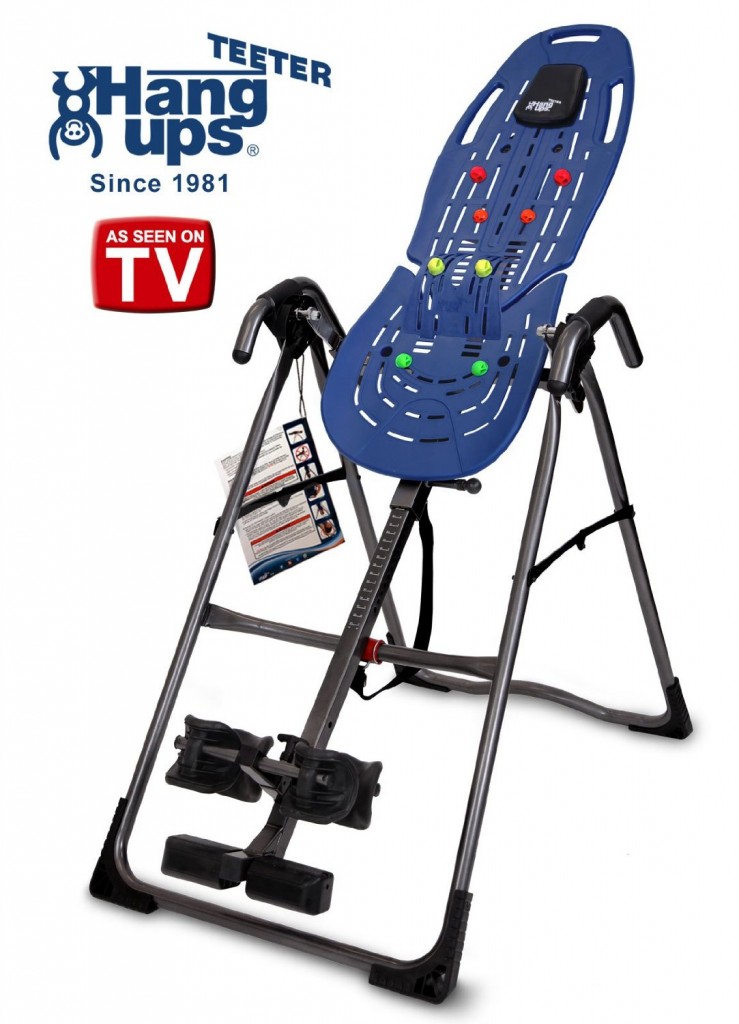 Which Teeter Gets the Most Votes?
One of their most popular models is the Teeter Hang Ups EP-560 that comes with acupressure nodes (yes, they can be moved) and lumbar bridge. As long as you are spending time in an inverted position – you might as well get the most bang for your buck, right? (Note: you can purchase the product without the nodes and bridge for $25 less).
Its Got Lots of Features!
The EP-560 is not the cheapest inversion table, but for good reason. Besides the bonus features mentioned above, the bed can be locked into place for doing inverted exercises. Yes, you can actually tone muscles in your core, legs and glutes using this device – in addition to stretching and pain relief (again, more bang for the buck!).
And don't worry – there's a DVD included with healthy back routines that you can do.
Price: $489 $325
For Fitness Freaks…
For some people, core strengthening is just as important in recovery as stretching. Therefore, if you can do everything with one machine at one time, you can get faster results.
For people who exercise often, participate in high impact sports or do weight training, an inversion table can help with relaxing tense muscles, decompressing the spine and reducing nerve pressure. Regular use can increase flexibility and performance in sports and other daily activities. This applies not only to the back, but to hips, knees and ankles (ie. improved shock absorption).
More Cool Features
To increase stretching and decompression, the device also comes with built-in "Grip-and-Stretch" Handles.
The ComforTrak bed is flexible, so it provides a greater range of motion. This is ideal when stretching and completing exercises.
The ankle cups, or "Ergo-Embrace Supports" are super comfortable. As we all know, the more comfortable the equipment – the more often we will use it.
Click here for more information
Teeter Hang-Ups EP-950
The Teeter Hangups EP-950 is another inversion table that is a hot-seller.
This is a premium table that comes with the Patented Flex Technology that has a smooth, low-friction surface allows you to move and have a greater range of motion.
Why does this matter?
Greater flexibility essentially is better for realignment of the spine as well as relaxing your muscles.
You can also pre-set your rotation angles – you don't have to invert to 100%. Some users want to begin inversion therapy gradually, and other people prefer a less intense recline because it puts less strain on their joints. In any case, this table give you multiple options.
Besides using the EP-950 to minimize back pain, it can be a great stress-reliever as well as a means of improving your posture. (Sit at your desk a lot? You know what I mean). Athletes like runners, cyclists, weightlifters, snowboarders and golf enthusiasts can benefit simply by reducing the pressure and stress they put on their body.
Like the EP-560 above, the EP-950 also comes with the Ergo-Embrace Ankle System, for maximum foot comfort and fit while inverted.
Price: $579 $399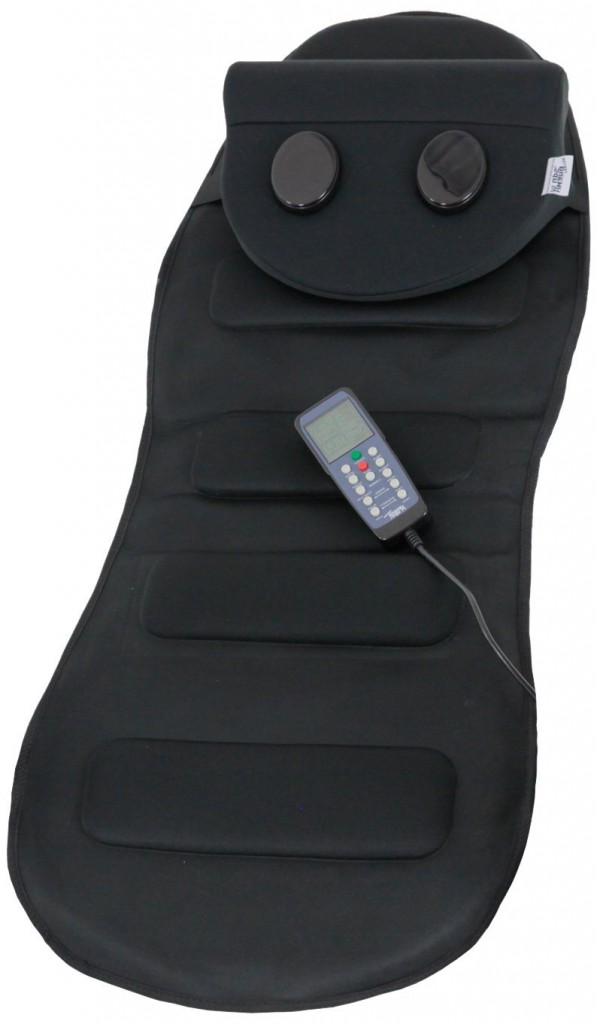 Add Vibration!

If all of these cool features aren't enough, there's the Teeter Hang Ups Vibration Cushion accessory that you can use while you are inverted. This vibrating cushion also provides heat too through infrared technology.
Save money on massage sessions and get a relaxing spa treatment at home for less! Studies demonstrate that pulse and vibration technology can minimize muscle pain, boost blood circulation and promote relaxation.
It's very easy to use – as it conveniently attaches to the inversion table and comes with a remote control.
Price: $149 $99