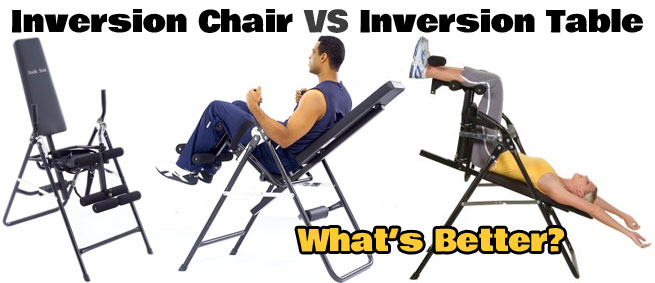 Inversion Chair VS Table – Similarities:
Just like a regular inversion table, an inversion chair such as the Health Mark Pro is designed to decompress the spine, increase blood circulation and reduce muscle stress.
The chair set-up is also multi-functional since you can use it in a variety of different ways. In addition to traction, users can similarly perform all sorts of core building exercises as they would hanging completely upside down.
Inversion Table VS Chair – Differences:
The unique chair-like design, however, enables users to get the maximum gravity-assisted traction without having to hang upside down 100%. This means that there is less stress on the hips, knees and ankles plus less pressure on the head and eyes. Although this may not matter to some people, to others this can be the deciding factor as to whether or not they can use inversion therapy.
There aren't many inversion chairs available on the market as compared to traditional inversion tables. And the Health Mark Pro is known for its ease of use. If you're using inversion to relieve back pain, you already understand that having a piece of equipment that is easy to get on and off of is one of the most important factors. It's important for safety as well.
Instead of laying flat on your back, the chair enables you to invert in an ergonomically correct position with your knees above the hip flexors. This can actually be a more relaxing and less stressful position for the body.
The Bottom Line: Who is it for?
The seated rolled leg supports make this an ideal device for those who are looking for gravity-assisted traction but have weak or injured ankles and knees. (3)
Health Mark Pro Inversion Therapy Chair
There are Many Reasons Why People Use Inversion Chairs:
To decompress the spine via gravity assisted traction
To release muscle tension, relax and stretch out
To reduce lower back pain due to poor posture, long periods of sitting or intense exercise routines
For accelerated ab and core workouts that specifically blast the lower abdominals and obliques
To boost blood circulation (1) throughout the body, focus and mental alertness (2)
Key Health Mark Pro Inversion Chair Features:
Heavy duty steel frame with durable powder-coated finish
Seat design that is ergonomically correct
Padded chair with adjustable back rest
Ankle and knee supports that are padded for extra comfort
Adjustable lap belt for security and comfort
Easy-to-use handle bar
Inversion Therapy Specifications:
Weight Capacity: 300 lbs
Max Angle: 70 Degrees
Dimensions: 52″ x 28″ x 61″
Net Weight: 58 lbs
(1) http://www.globalhealingcenter.com/natural-health/benefits-of-inversion-tables/
(2) http://advancedmigraine.com/back-pain-management-inversion-therapy-need-know/
(3) http://www.healthmarkinc.net/product/core-inversion-chair/