In addition to inversion tables, Ironman Fitness makes an entire line of exercise equipment, from treadmills to stationary bikes to weight lifting benches. They are no stranger to health, movement and athletic performance.
I think this is an important factor when it comes to choosing therapy equipment, because they understand people who love fitness. Many athletes experience back pain and simply want to get back in the game as soon as possible – and prevent future injuries as well.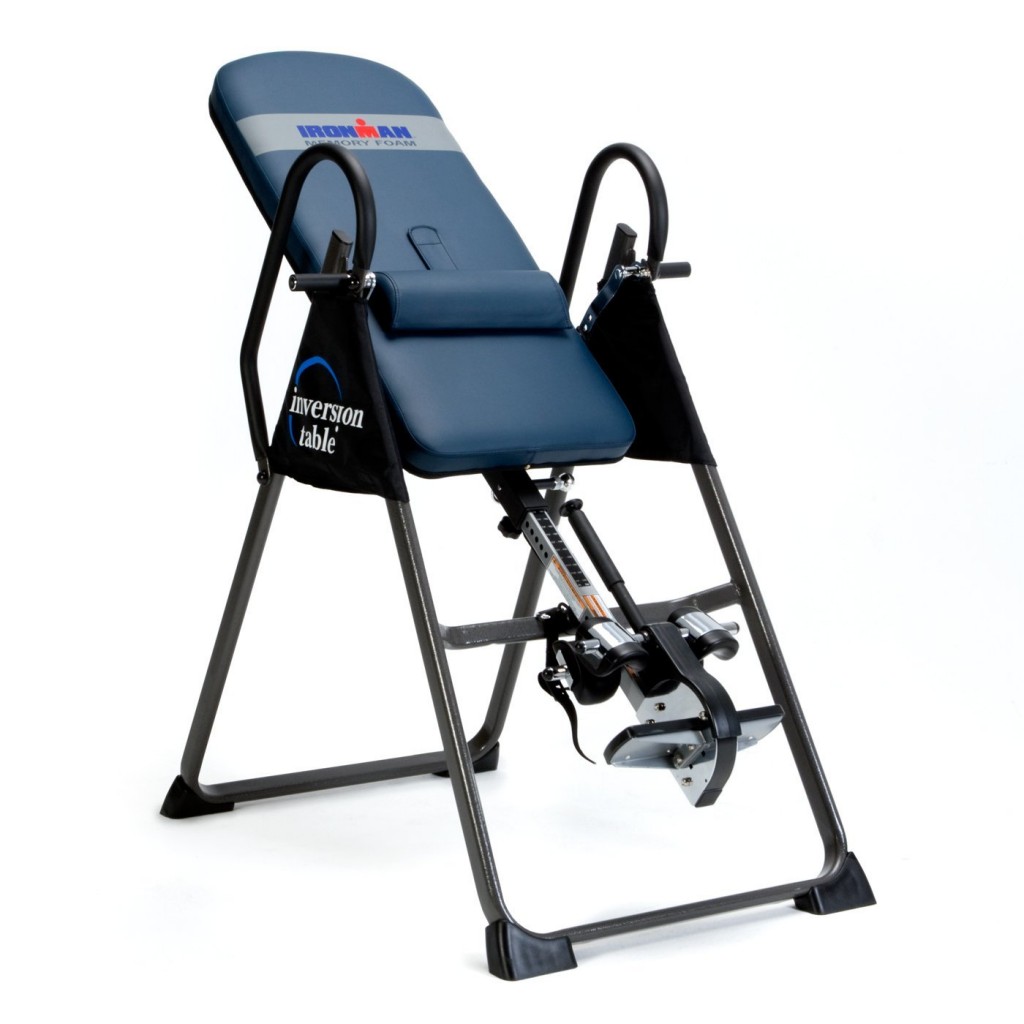 The Ironman Gravity 4000 Inversion Table is a best seller in their line of equipment.
It's easy to feel comfortable and secure in the Ironman Gravity because it has a sturdy steel frame with rubber floor stabilizers to prevent slipping. It also has a memory foam backrest and ergonomic ankle cushions, so watch out you don't fall asleep. 😉
You'll also notice this comes with a lumbar pillow for extra back support if needed. It is removable.
The equipment is very user friendly, with features that make it easy to recline into an inverted position and then return to upright. The ankle locking system is also simple to use.
In addition, you have the option to recline at 3 different inversion angles. If you feel more comfortable at a 60% or 80% angle rather than 100%, you can do that with this machine and still experience plenty of health benefits. For me, just 10 minutes a few times a week at a partial inversion is enough to help me loosen up, relieve back stiffness and help me move around better.
Price: $349 $200
Click here for more information
Want to Pay Less?
Ironman Gravity 1000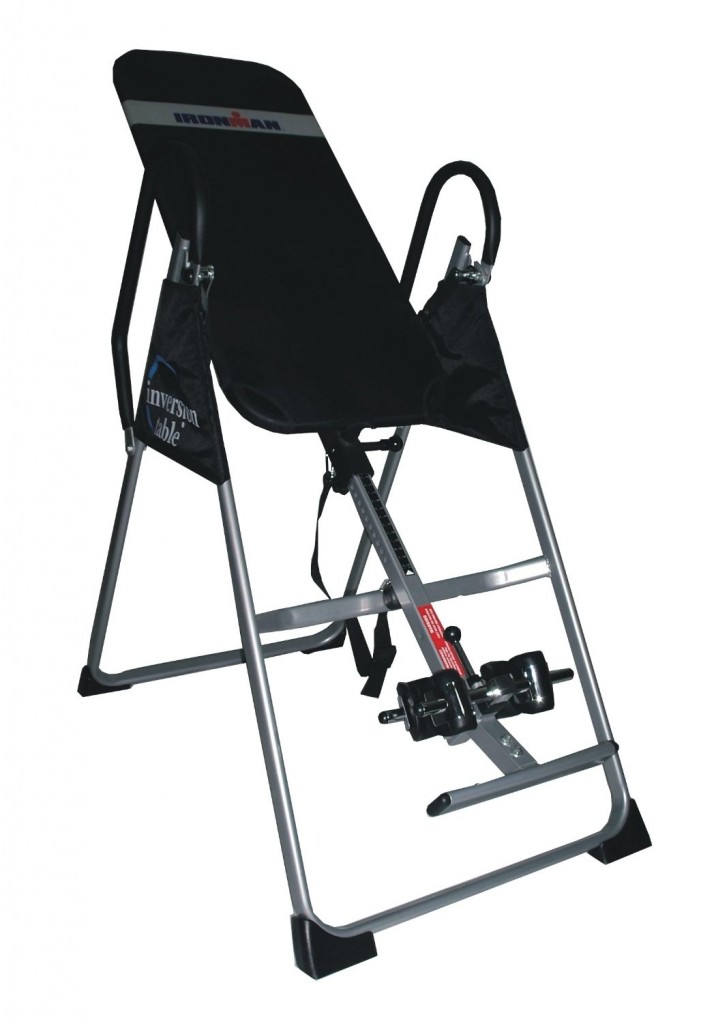 The Ironman Gravity 1000 Inversion Table is another popular model which is priced about $50 cheaper.
For the cost savings, there are a few things that you give up.
First of all, you get the standard frame vs the heavy duty of the 4000, which actually makes the device weight significantly less (46 lbs vs 82 lbs). However, people who regularly fold up and move their table may prefer the lighter weight of the cheaper model.
Second, you don't get the memory foam or the lumbar support cushion either. If you have minimal back pain or don't plan on spending a lot of time inverted, these extra frills may not matter to you as much as the $50.
Third, the ankle locking system on the Gravity 1000 is spring loaded vs the easier "palm-activated" ratchet system on the 4000 model.
All that said, both products deliver a highly durable, safe and functional inversion table that customers really like.
Price: $199 $148
Got Heat?
Ironman IFT 4000 Infrared Therapy
The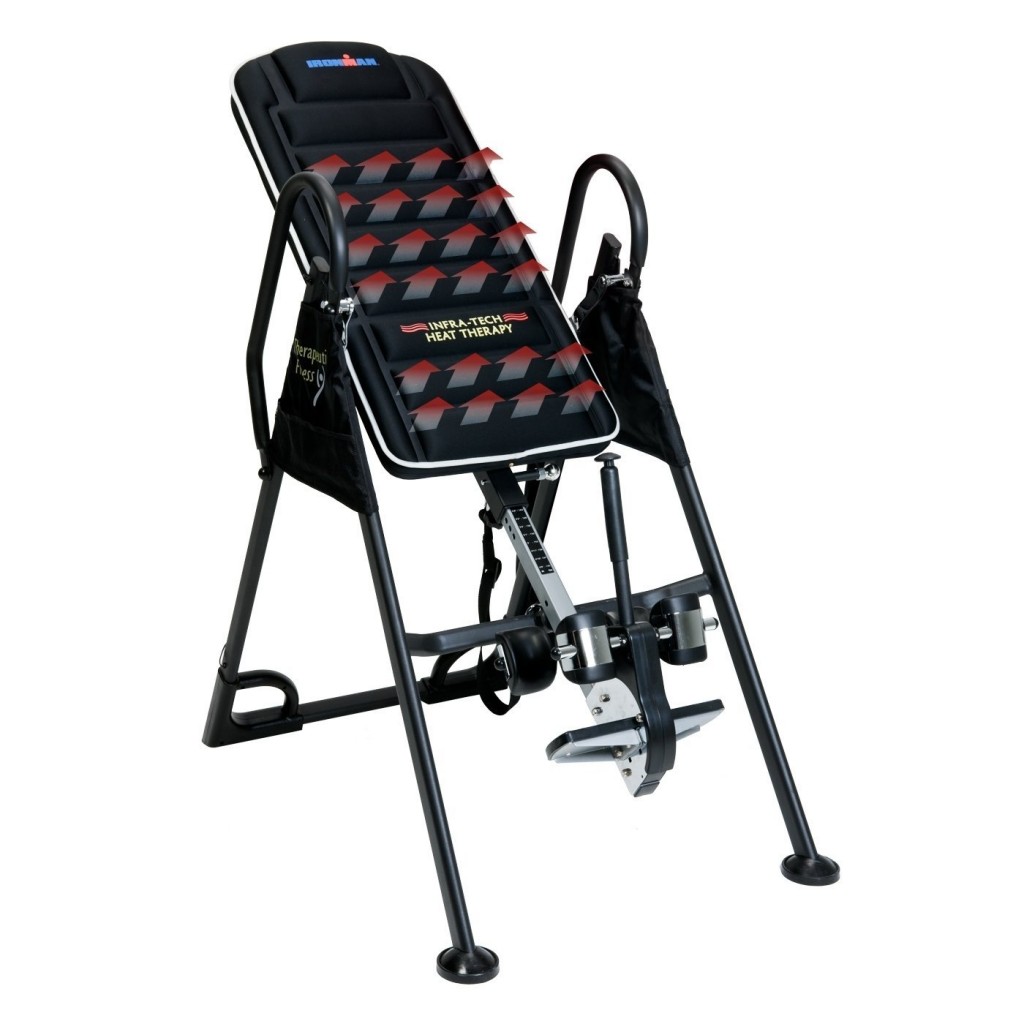 Ironman IFT 4000 Infrared Therapy Inversion Table
This model incorporates advanced FIR heat technology into the table to help soothe and relax the back even more. Infrared heat therapy is known to boost blood circulation, help reduce stress and relax muscles so that sprains can heal faster.
I know from my own personal experience that heat helps my back loosen up and enables me to perform many back stretches. If you've even used a heating pad or relaxed in a hot tub, you know what I'm talking about.
The temperature can be controlled conveniently via the remote control included with the unit. (Max heat is 140 degrees F).
Price: $499 $395
Click here for more information